Daily Specials
MON – FRI • 11-4pm
#1
A Slice of Pepperoni
+ a Drink
$5.50
#2
Any Specialty Slice
+ a Drink
$6.75
#3
Any Slice with an Italian Roll
+ a Drink
$8.25
#4
Any Slice with a
Caesar or House Salad
+ a Drink
$11.50
#5
Two Slices of Pepperoni
+ a Drink
$9.95
BY THE SLICE
SLICE HOUSE—"It's a meal"
The Godfather
Italian Sausage, Pepperoni, Bacon, Beef & Meatballs
Rosalie (white)
Italian Olive Oil, Ricotta Cheese, Spinach, Tomatoes, Onion, Mushrooms & Garlic
Italian Grill
Grilled Chicken, Meatballs, Olive Oil, Mushrooms, Onion, Tomatoes, Roasted Red & Gold Peppers
Italian Garden
Spinach, Artichoke, Garlic, Roasted Red & Gold Peppers, Mushrooms & Olive Oil
Italian Mex
Pepperoni, Italian Sausage, Onion, Black Olives, Jalapenos, Roasted Red & Gold Peppers
Vegetarian
Spinach, Mushroom, Tomatoes, Broccoli, Onions, Black Olives, Olive Oil
Italian Meat
Pepperoni, Italian Sausage, Canadian Bacon, Beef
Margherita
Roma Tomatoes, Garlic, Fresh Basil
Supreme
Pepperoni, Italian Sausage, Beef, Canadian Bacon, Jalapenos, Red Onion, Tomatoes, Spinach, Black Olives, Mushrooms, Garlic
BBQ Chicken
BBQ Sauce, Grilled Chicken, Parsley
Hawaiian
Canadian Bacon, Pineapple, Bacon
Specialty Pies
12″ — $11.50
16″ — $26.00
Giant 20″ (6 lbs) — $33.00
Cheese
12″ — $8.75
16″ — $17.00
Giant 20″ (6 lbs) — $21.00
Each additional topping
12″ — $1.25
16″ — $2.50
Giant 20″ (6 lbs) — $3.50
Papa—$15.00
Meatball, Pepperoni, Italian Sausage, Beef, Mozarella , Riccotta & Sugo
The Italian Garden—$15.00
Spinach, Artichoke, Garlic, Roasted Red & Gold Peppers, Mushrooms & Olive Oil
Dipping Sauce
Ranch, Garlic Butter,
Marinara  $1.00
Walk through our doors and be greeted with an abundant display of our award-winning Sicilian-style pizzas served to you with the genuine Italian warmth we're famous for. Stroll back to our beautiful Mediterranean patio and deck for a dine-in experience reminiscent of an Italian village cafe. Whether you're dining in or ordering out, the Roppolo's Italian Experience is delicioso!
Pasta Alfredo—$14.00
Add Chicken $4.00
(Includes House Salad)
Caesar Salad
Sm $7.50 / Lg $11.00
add Grilled Chicken  $4.00
Gourmet Italian Rolls—2.50 each
Pepperoni, Veggie, Jalepeno Bacon Rolls, or Dessert Apple Rolls
Toppings
MEATS: 
Anchovies, Bacon, Beef, Canadian Bacon, Grilled Chicken, Italian Sausage, Sicilian Meatballs, Pepperoni
VEGGIES: 
Artichokes, Banana Peppers, Basil, Black Olives, Broccoli, Garlic, Jalapenos, Mushrooms, Pineapple, Red Onions, Roasted Red Bell Peppers, Roma Tomatoes, Spinach
SAUCES: 
Marinara, Olive Oil, Ricotta, BBQ
White Wine
$6.50 a glass
$8.99 sm bottles
$20.00 a bottle
Red Wine
$8.00 a glass
$8.99 sm bottles
$24.00 a bottle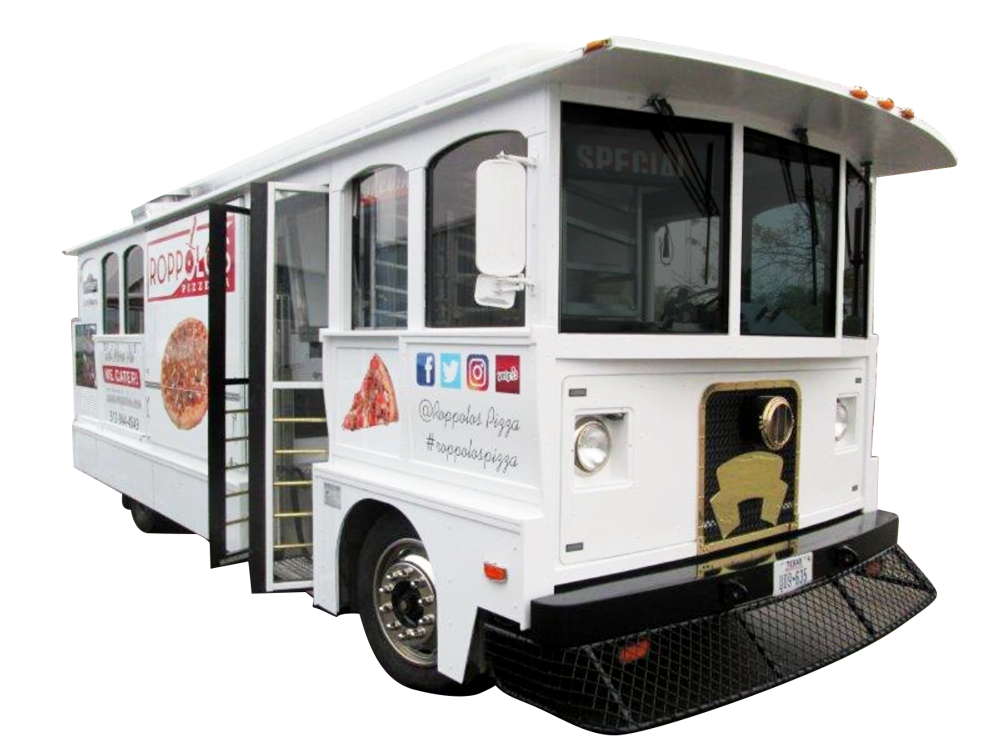 Roppolo's Will Cater To You!
Whether it's a business meeting or social gathering, your guests will love our incredibly delicious Italian food, along with our outstanding customer service we're known for. This adds up to a great party for you and your friends. Choose between our iconic Trolly Food Truck to serve your guests or have your food dropped off with our speedy Drop-off Catering.
Our Famous Pizza Trolly Is Ready to Roll!